_____________________________________________________________________________________
NOTE: This Website is currently being re-designed.  If you think it looks different each time you log on, don't be concerned.  It's not you, it's us.  If you don't see something where you thought it should be, look around the site; it has either been moved or removed.

______________________________________________________________________________________
Renewable Heat Now is a campaign organized by Alliance for a Green Economy, New Yorkers for Clean Power, NY-GEO, HeatSmart Tompkins, Sane Energy Project, and Frack Action.  We are working together to accelerate the adoption of ground-source (geothermal) and air-source heat pumps in New York State to reduce the amount of fossil fuels used to heat and cool homes and workplaces. We educate the public about heat pumps and also advocate for New York State policies that will enable all New Yorkers to afford to make the switch to these renewable-ready heating and cooling technologies.
Heating our buildings accounts for almost 40% of the greenhouse gas emissions in New York State. If we are going to meet NY's goals of a 40% reduction in GHG emissions by 2030, we must rapidly shift off of oil and gas for heating homes & other buildings in NY. Ground-source (geothermal) and air-source efficient-electric heat pumps are a great heating & cooling solution for New York.
Join us in Albany, NY on Wednesday, December 6 when we take our campaign to the Million Dollar Staircase. We will hold a rally and press conference. Afterward, we will bring signed petitions to Governor Cuomo.
Here is the Facebook link for the Nov 27 7pm Rally Prep/Info Session (join by phone or by computer):
________________________________________________________________________________________________
The latest installation of solar panels directly in the path of the Keystone XL pipeline are going up in Nebraska this month. If TransCanada wants to build its dirty tar sands pipeline, they'll have to tear down clean, renewable energy.
Solar XL not only provides clean energy, it tells an inspiring story about the people and places who are standing up to resist Trump's agenda and TransCanada's dirty tar sands pipeline.
Watch this inspiring new film that shares the stories of the people and vision behind #SolarXL - then help build the momentum by sharing it far and wide.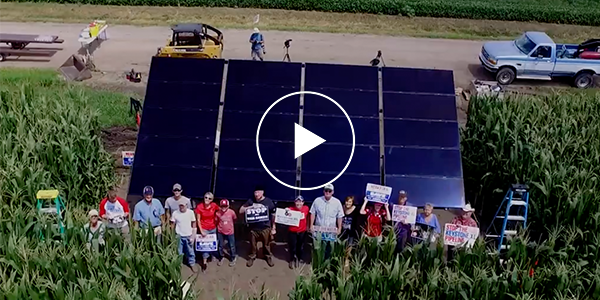 This pipeline is not a done deal. In order to build it, TransCanada needs one final permit from Nebraska's Public Service Commission (PSC), which will vote to approve or deny the permit this month.
In August, we delivered nearly 500,000 public comments and marched through Nebraska's state capital with our partners to urge the PSC to reject the permit, but that's not all. The climate movement – including Indigenous leaders, farmers, ranchers, and activists like you – has been fighting for several years to keep dirty tar sands in the ground and stop this and every destructive project like it. 
This movement is growing and only getting stronger. We're ready to take bold action to protect our water and climate if Keystone XL gets approved. Stay tuned for an announcement before the end of November. 
Share this inspiring story of resistance and help keep the pressure on Nebraska to support clean energy, not Keystone XL.
This 8-minute film takes you to the Cheyenne River Sioux Reservation in South Dakota where the pipeline would run less than a mile outside its border. It brings you along the river that the Tribe depends on for drinking water that would be contaminated when the pipeline leaks.
It also features Jim Carlson and his farm in Nebraska where the first solar installation went up in his family's corn fields. We learn what this pipeline would mean for his health, family, and well-being and why he's been fighting this project for seven years.
This is what inspiring, community-led resistance looks like – and you can help make it even more powerful by joining this fight. 
__________________________________________________________________________________________________
IMPORTANT NEWS
People protest diesel trucks outside Ezra Prentice Homes.
_______________________________________________________________________________________
After Devastation Brought by Hurricanes Irma and Maria, Senators Urge That Federal Assistance Allow Communities to Rebuild in Sustainable Way
Friday, October 27, 2017
U.S. Sens. Al Franken (D-Minn.) and Lisa Murkowski (R-Alaska)—along with Sens. Maria Cantwell (D-Wash.), Orrin Hatch (R-Utah), and Rob Portman (R-Ohio)—are making a bipartisan push to ensure that infrastructure in Puerto Rico and the U.S. Virgin Islands is rebuilt in a resilient and sustainable way that will reduce the threat of damage from future disasters.
 In a bipartisan letter to Senate Majority Leader Mitch McConnell (R-K.Y.) and Minority Leader Chuck Schumer (D-N.Y.), the Senators said that Hurricanes Irma and Maria decimated the electric grids in Puerto Rico and the U.S. Virgin Islands with some communities projected to face many months without reliable power. Sen. Franken and his colleagues want to ensure the grid is rebuilt with modern technologies including solar and wind to improve reliability and save residents money.  
"Hurricanes Irma and Maria wreaked destruction and caused enormous human suffering in Puerto Rico and the U.S. Virgin Islands," wrote the Senators. "We believe it is imperative that we provide the necessary federal assistance for the millions of Americans trying to recover. We also request that federal assistance allow communities to rebuild more resilient and sustainable infrastructure that is less vulnerable to extreme weather."
_________________________________________________________________________________________________
                 STOP buying stuff in plastic bottles!!!!! 
OK, can we please STOP buying stuff in plastic bottles!!!!! Most of it isn't good for you anyway, and the rest is cheaper to mix yourself. Put it in a REUSABLE metal container. Are we really in THAT much of a hurry? Please pay attention to the amount of trash you throw away everyday and think about where it is going. Rethink, Reuse REFUSE