Philadelphia Business Journal | July 17, 2015 | Column by Dan Norton
As oil-filled "bomb trains" snake their way along the Schylkill River, southwest Philadelphia residents are voicing concern for their own safety.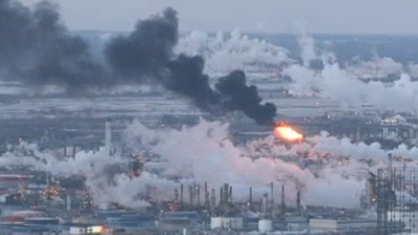 Nearly three dozen people gathered at an emergency community meeting last Thursday at the Kingsessing Recreation Center. The presentation alerted residents to the destructive capacity of these oil trains should they derail and catch fire.
"We're a catastrophe waiting to happen," said Tracy Carluccio, the deputy director of the Delaware Riverkeeper Network and meeting's primary speaker. "Nothing has changed to make a catastrophe less likely to happen here."
The rally was held about two months after an Amtrak passenger train derailed, killing eight people and injuring hundreds of others. The train came to rest just feet from freight trains, which investigators said were empty at the time.
Many of the freight trains passing through Philadelphia carry very explosive crude oil mined from North Dakota en route to one of the city's refineries.
In February, 11 such train cars derailed in South Philadelphia, luckily causing no casualties. A year before that, seven cars filled with oil derailed over the Schuylkill River.
A statement from CSX, the transportation company that moves the oil, assured that safety is its highest priority.
"We're sensitive to the concerns that residents of the communities where we operate may have about the materials that we move," CSX told ABC6. "Our goal is zero accidents and we strive to achieve that goal every day through appropriate training of our crews, investment in our infrastructure, compliance with all Federal safety regulations that govern the movement of hazardous materials and communication with first-responder organizations along the routes we use."
Charging the emergency meeting's pathos was a video displaying the fiery carnage of a 2013 oil train explosion in Quebec, which claimed the lives of 47 people.
These trains, often more than a mile long, can suffer from a catastrophic domino effect. As one car lights up, the intense heat gradually detonates other cars.
The fires are so hot, Carluccio said, that firemen often have no choice but to let it run its course.
As these risks have yet to materialize, the short-term benefits of this oil transportation for Philadelphia come more into focus. The city's revival as an energy hub has created more than 1,000 jobs with the potential for more, according to a McClatchy report.
"It's a good marriage," said Charles Drevna, president of the American Fuel & Petrochemical Manufacturers, told McClatchy. "Ultimately, it will be good for the consumer."
Former Governor Tom Corbett endorsed the city's rise as an energy hub, as Sunoco Logistics dealt with a private equity firm to create Philadelphia Energy Solutions.
Despite the economic benefits, hundreds of thousand of residents lie within the half-mile evacuation zone of an explosion, and it's a handful of these individuals who are calling for stricter regulations against the oil transportation by rail. Will Bunch of the Philadelphia Daily News offers some ideas for the next mayor to make this happen.
http://www.bizjournals.com/philadelphia/news/2015/07/17/oil-freight-trains-kingsessing-sw-philly-safety.html
Do you like this post?
---
Sandra Steubing
commented
2015-07-21 10:56:21 -0400 · Flag
We no longer need to weigh the opportunity of fossil fuel jobs against the risk to property and life of these bomb trains. According to Dr. Pollin of the Political Economy Research Inst., there are 2-3 times renewable jobs generated for the same dollar investment that creates one FF job. Renewable energy is a win-win. With catastrophic climate change breathing down our necks, fossil fuel jobs are a lose-lose.
PAUSE, People of Albany United for Safe Energy posted about
Fear of 'bomb trains' draws Southwest Philly residents to emergency meeting
on
PAUSE, People of Albany United for Safe Energy's
Facebook page
2015-07-21 09:57:55 -0400
Fear of 'bomb trains' draws Southwest Philly residents to emergency meeting
@PAUSEnergy
tweeted this page.
2015-07-21 09:57:51 -0400