Ithaca.com | April 15, 2015 | Column by Bill Chaisson
As the 45th Earth Day approaches on April 22 it seems like a good time to reflect on the progress we've made toward altering the way we produce energy. On the first Earth Day in 1970 widespread use solar and wind energy were mere glimmers in the eye of some idealists. Today they are bona fide contributors—in different ways—to the national power supply.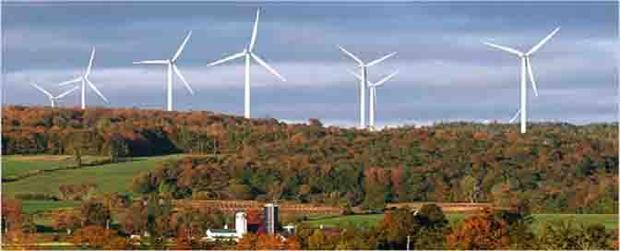 In 2015 the Black Oak Wind Farm, which will consist of seven turbines on Connecticut Hill in Enfield capable of generating 12 to 14 megawatts, is poised to become New York State's first community-owned wind energy producer. The project, begun a decade ago by John Rancich, is now steered by Marguerite Wells, the sole employee and vice president of the board of managers for the limited liability company. 
Their third, and perhaps final, round of fundraising is nearing its end, at which time they will move to a "financial close." According to Wells, this means "that we all agree to what we are going to do," and they can place an order with General Electric. Nine months later the turbines and towers will be delivered. It takes a few months to prepare the site, Wells said, and one day per turbine to erect them.
After the turbines begin to spin and to produce electricity, Cornell University has pledged to buy all of it. 
Moving Toward a Renewable Grid
"How to get the grid to 100 percent renewable," Wells said, "that's my goal. We need all the wind and solar we can get." The technical end of the renewable power grid has nearly come of age, she said. "They already do it on islands. Kodiak Island in Alaska, for example, they're there. And it exists on de facto islands, places that are so isolated that power can't get to them."
The "grid" that the Black Oak wind maven would like to see entirely filled with power from renewable sources is the continent-wide network of transmission lines that brings electricity from producers to consumers. Since the 1960s electricity has moved around the country in interconnecting transmission lines owned by regional utilities (some of which, like NYSEG, are now owned by multinational energy conglomerates like Iberdrola). In North America the system consists of two major—Eastern and Western— and three minor—Quebec, Alaska, and Texas— "interconnections." All of them are tied together via high-voltage direct current transmission lines to run at a synchronized frequency that fluctuates slightly around 60 Hz. Between 1968 and 2008 the system was governed by the North American Energy Reliability Council (NERC); "council" became "corporation" in 2008. The Eastern Interconnection, of which New York State is part, was the first one established in 1962.
After 1998, in response to Federal Energy Policy Act of 1992, which deregulated the electric utilities, owners of the grid transmission lines could no longer also supply the power to the grid. This made room for companies that were simply energy producers, which made it easier (although not easy) for alternative energy companies to supply power to the grid.
According to data from the U.S. Energy Information Administration, in 1970 the United States was producing 1,535.1 billion kilowatts (kw) of electricity. In 2011, the most recent year for which data is available, energy suppliers were producing 4,105.7 billion kw, that is, more than 2.5 times as much. In 1970 82.2 percent of our energy was generated with fossil fuels. In 2011 the number had declined to 68 percent. Part of this decline is due to a significant increase in the use of nuclear power from 1.4 percent to 19.2 percent of the total. 
Sadly, the contribution of renewable energy has decreased from 16.4 percent in 1970—when it all came from turbines in hydroelectric dams—to 12.7 percent in 2011, with the decline entirely due to the decrease in the contribution of hydro to only 7.9 percent of the total. The actual amount of electricity made by hydro increased from 251 billion to 325.1 billion kw, but the amount of energy produced by nuclear grew by nearly 14 times between 1970 and 2011 from 21.8 to 790.2 billion kw. 
On the up side, wind power went from generating a negligible amount in 1970 to making up 2.9 percent of the total in 2011. Other renewable sources, including solar, geothermal and biomass (wood or waste burning), each contributed less than 1 percent of the 2011 total.
A decade ago NYSERDA and GE Energy published a study, "The Effects of Integrating Wind Power on Transmission System Planning, Reliability, And Operations" that examined whether the existing technology and infrastructure of the New York State Bulk Power system (NYSBPS; i.e., the grid) could absorb 3,300 megawatt contribution (10 percent of the peak load in new york) from wind power producers. 
The study examined a number of challenges, including the reliability and generation capacity of wind farms. The executive summary concluded quite unambiguously, "Based on the results of this study, it is expected that the NYSBPS can reliably accommodate at least 10 percent penetration, 3,300 MW, of wind generation with only minor adjustments to its existing planning, operation, and reliability practices."
New York has a net metering law that allows individual producers to send into the grid electricity that they produce in excess of their own needs. The Public Service Commission (PSC) has been gradually increasing the percent of peak load that can be contributed in this manner in a given utility's service area.
After December 15, 2014 the number rose to 6 percent. This came in response to demands from non-profits like Hudson River Clean Energy after the earlier limit of 3 percent was reached. According to a December 2014 study by Sustainable CUNY,  most of this contribution is coming from residential solar arrays with wind power making up only 0.3 percent of the net metering contribution. 
Solar and Wind 
While solar panels are selling like hot cakes among homeowners and small businesses, wind turbines are not. There two reasons for this: cost and complexity.
Renovus Energy, which once erected locally-designed Weaver Wind Energy models, ceased installations of wind turbines in 2011. "I totally support utility wind like Black Oak," said Joe Sliker, an owner of Renovus, "but we've stopped selling small wind turbines. If you get 5 kilowatts of solar installed, it's going to cost you $15,000 before incentives, and after incentives it will only be $5,000. For a wind turbine that size you're looking at $80,000.
And it's not just the cost that's daunting, said Sliker, but the nature of the technology is distinctly different from a solar array. "First of all," he said, "you're building a tower. There are cranes involved. There are so many challenges to overcome. Think about it: this is highly mechanical device sitting atop a 120-foot tower in upstate New York." In contrast, solar panels have no moving parts, are attached to your roof, and need hardly any maintenance.
Since he joined Renovus four years ago, Sliker said, his company has had to buy out some customers' warranties with turbine manufacturers because they have gone out of business. Bergey Wind Power is one of the few companies in the small turbine market that has persisted.
"Even if [the turbine] works right, the costs are just crazy," said Sliker. He also began to wonder if there were enough customers in the region for the product. The Renovus customer is, generally speaking, a homeowner or perhaps a small business. "It's all a question of scale, and there are not a lot of [turbine models] that are in the middle of the road.
When Sliker was reminded of the 1970s-era rhetoric about alternative energy production, which advised the public to begin to think in terms of using multiple complementary energy sources rather than a single one, generally fossil fuel at the time, he said he supported that approach. But he went on to state the technical and practical facts of the present.
"We can provide thousands of times the amount of energy that New York State uses with just solar," he claimed. "Four years ago the costs were double for solar, and it's now a rock-solid technology. If you have a power source that supplies everything you need, I can't think of why not make that your source." 
Building a Wind Utility
While solar power production expands one household at a time, wind power production is growing "farm" by "farm." There are nine active producers in New York State. The first to be operational, the Madison Wind Farm, opened in 2000 and can supply 11.55 megawatts (MW) to the grid. According to the New York Independent System Operator (NYISO), as of April 2014 there were 1,700 MW being generated by wind power in New York with over 2,000 more megawatts planned for grid connection.
"The primary finding of the study ["Growing Wind: Final Report of the NYISO 2010 Wind Generation Study," a follow-up to the 2005 NYSERDA study] is that wind generation can supply reliable clean energy at a very low cost of production to the New York power grid. This energy results in significant savings in overall system production costs, reductions in "greenhouse" gases such as CO2 and other emissions such as NOx and SO2 as well as results in an overall reduction in wholesale electricity prices." 
The study notes that wind farms are expensive to build and that the variable nature of their power production poses challenges to the grid managers, but it concludes that up to 8 gigawatts of power from wind could be integrated into the existing system, which would exceed 20 percent of the expected 2018 peak load, double the amount predicted by the 2005 study.
The Black Oak Wind Farm is scheduled to contribute 12 to 14 MW to this expansion of wind power in New York. 
"Originally we had planned on 20 turbines," said Wells, "but that was because of some bad engineering advice. The turbines can't be too close to each other because they disturb each other with their wakes. Also they would have been too near houses and wetlands." 
But because of recent improvements in turbine and blade technology the seven towers that are planned will be producing as much energy as the original 20. Wells said that the capacity factor, the ratio of the actual power produced to the potential amount, has increased from 22 to 40 percent for the GE turbine models that Black Oak is planning to purchase.
At the scale that Black Oak is making electricity—megawatts—wind makes energy at one-third the cost of solar. The footprint of wind per megawatt compared to solar is also smaller. Black Oak has leased 1000 acres from landowners, and it would take 2000 acres of solar panels to make as much power, but as Wells pointed out, the landowners can still farm and grow trees under the turbines.
Black Oak Wind Farm will be too small for the PSC to regulate; suppliers have to generate at least 80 megawatts to be on the PSC radar. "They regulate NYSEG," said Wells, "so they are our ally." NYSEG owns the transmission lines and NYISO regulates the grid. "The PSC is sort of the neutral parent that is above it all."  
Talking Turbines
Each turbine at Black Oak will be capable of generating 1.7 MW. "We looked at all the North American suppliers, got quotes and whittled it down," said Wells. "GE is a New York company—which counted for something—they're reputable, and they're one of the top three turbine makers in the world, and they happen to make the [least expensive] turbine." 
The increase in efficiency that Wells described is coming from design simplification and an increase in the size of the rotors, according to Bob Frick, the GE sales manager for the Northeast. "The shape of the rotors has changed and the airfoil has become more efficient," he said. "The gear box is more reliable and more efficient, and the electrical design is more efficient. You can capture more wind and extract more usable energy from it."
GE Renewables, which is headquartered in Schenectady, is a $7 to $8 billion business. The management, conceptual design, financial department, product support, and remote monitoring system are all based in Schenectady. The electronics for the turbine and the tower are manufactured in Pensacola, Florida. The blades for Black Oak will likely be made in Toronto, said Frick, and the tower in Montréal or in Iowa, depending on when the order is placed.
The Black Oak towers will be 475 feet tall and 15 feet in diameter at the base. They will be spaced 1,200 to 3,500 feet apart. Black Oak is planning to use the GE 1-7-100 model, but they are looking at the newer 2-3-107 and 2-0-116 models as well, which produce 2.3 and 2.0 megawatts each, respectively.
Raising Money
Black Oak Wind Farm is community-owned in the sense that nearly all of the 150 investors in the company are from the Ithaca area. Peter Bardaglio, former provost of Ithaca College, is the president of the board and one of the founders of the Tompkins County Climate Protection Initiative, a clean energy coalition of local community leaders who are committed to the reduction of greenhouse gas emissions, greater energy efficiency, and the adoption of renewable energy.
"Wind is a big piece of the [clean energy] puzzle," Bardaglio said. "It's a question of scale. With wind you can produce 2 megawatts per tower. With solar it takes 10 acres to produce 2 megawatts." He got involved with Black Oak because it would reduce the local carbon footprint.
"We were originally looking to have Cornell and IC purchase the power," he said. "For me this sprang from a vision I had to promote town/gown collaboration and make progress together, rather than separately." Ithaca College, however, went through a number of staff transitions and dropped out of the energy purchasing negotiations. 
Bardaglio had high praise for the Cornell Climate Action Plan. "You would be hard-pressed to find a more substantive commitment to sustainability than Cornell's," he said. "They were always interested in doing this with Black Oak, but the details were complicated. We had to get to the point where we knew where we were going to put the towers up. It was a huge vote of confidence to sign the power buying agreement [on Dec. 8]. That allowed other pieces to fall into place."
Wells said that Black Oak raised $2 million in the first two rounds of fundraising, which went to development and engineering. The third round will go toward construction capital, more engineering for the substation (to connect the farm to the grid), equipment, and toward debt.
Why is GE willing to supply turbines for such a small community-owned operation? "When you meet people you make assessments," said Frick, the GE sales manager. "Are they capable of doing this? Size doesn't matter. Well, Marguerite can do this. She's put together the Cornell and NYSERDA contracts, but we started supporting her three or four years before that. She pulls people in."
"We're going to demonstrate that renewable energy is a solid business proposition," said Bardaglio. "We will make it replicable. There has to be a financial reward and we are confident that there will be." 
http://www.ithaca.com/news/it-s-in-the-wind-renewable-energy/article_2d512032-e329-11e4-b2f4-972adbd3f794.html
Do you like this post?
---
PAUSE, People of Albany United for Safe Energy posted about
It's in the Wind: Renewable Energy
on
PAUSE, People of Albany United for Safe Energy's
Facebook page
2015-04-17 14:40:56 -0400
It's in the Wind: Renewable Energy
@PAUSEnergy
tweeted this page.
2015-04-17 14:40:51 -0400