Albany Business Review | June 3, 2014 | Column by Krystle S. Morey
Rich Hendrick, general manager of the Port of Albany, says a proposed east-coast oil pipeline would threaten jobs and growth at the Port of Albany.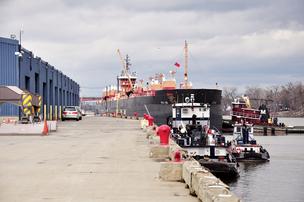 Albany has become a major hub for crude oil shipments from the Bakken oil fields in North Dakota to refineries in New Jersey and Canada over the past two years. The Port of Albany handles a quarter of the 400,000 barrels of crude oil shipped daily.More on that here:
Crude oil transport has created an economic boom of jobs and profits along the East Coast. To ease costs and environmental concerns of shipping oil by rail, Pilgrim Pipeline Holdings LLC, a Connecticut-based developer, is actively exploring the construction of an express pipeline to transport gasoline, diesel, heating oil, and jet and aviation fuel.
The proposed "Pilgrim Pipeline" would carry oil form New York Harbor to Albany and from Albany to refineries along the East Coast. The proposed route runs along the New York State Thruway and Interstate 287.
Hendrick fears that an oil pipeline from Albany, New York to Linden, New Jersey would mean less work and fewer jobs at the Port of Albany.
The port attracts business and jobs from oil transportation because it ships oil via rail and the Hudson River for oil companies including Buckeye and Global Partners.
"It makes me nervous," Hendrick said. "There would be a severe traffic cut of tug and barge traffic through the Port of Albany."
Hendrick said that it takes about seven workers to secure a barge to the dock and unload it. That number is similar for unloading a shipment by rail. A pipeline would require one or two workers to control the valves and transportation of oil from the pipe to a holding tank.
Transporting oil using a pipeline is safer and more economically friendly, according to Paul Nathanson, Pilgrim Pipeline Holdings LLC spokesperson.
"You can continue to transport oil via the pipeline despite severe weather. You can't do that with a barge," Nathanson said.
"We are still in the preliminary stages of the project," Nathanson added. "We're still determining the route of the pipeline. The surveyors have been out. We will apply for permits in the next few months."
http://www.bizjournals.com/albany/morning_call/2014/06/port-manager-fears-oil-pipeline-will-threaten-jobs.html?page=all
Do you like this post?