The News & Advance | April 30, 2015 | Column by Alex Rohr and Alicia Petska
MOUNT CARBON, W.VA — Shannon Estep heard the metal screech. He looked out his window through a driving snowstorm at the tracks below West Virginia Route 61 and watched the black cylindrical tankers bunch up like a mangled accordion.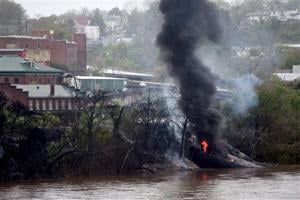 Estep, 60, had just crossed the tracks that split downtown Montgomery while dropping off his wife at work. He had recognized the tankers as those hauling the especially volatile crude oil mined from the Bakken shale formation in North Dakota, where a production boom has led to a surge in oil-by-rail traffic.
"I heard the noise and I was pretty sure I knew what it was going to be, and I looked over, seen the cars piling up, derailing, piling up, and I got on my radio immediately and contacted our dispatchers, 911, and told them there was a derailment," said Estep, who's been chief of the nearby Armstrong Creek Volunteer Fire Department for 36 years.
Estep said the train engineer laid on his horn in warning.
"I looked back and could see the train was on fire."
The 109-car train, hauling Bakken crude bound for Virginia derailed Feb. 16 near the small village of Mount Carbon, a community with history rooted in another fossil fuel: coal.
The same train would have traveled through Lynchburg within a few hours, passing over the rebuilt downtown riverbank where a similar train derailed one year ago today.
These derailments and subsequent tanker explosions are part of a growing trend of oil-by-rail accidents raising alarms across North America. The debate — focused on improving rail cars, maintaining track and providing emergency personnel with more resources — is part of a vast discussion about what materials should fuel power grids throughout the world and how to transport them.
Crude oil derailments have been on the rise amid a Bakken oil boom that generates about 1.3 million barrels of oil per day, according to federal estimates. That's a nearly 800 percent jump for the Bakken region since 2008. Most of that oil is transported by rail.
In 2006 and 2007, the U.S. had no train derailments involving crude oil, according to a database maintained by the Pipeline and Hazardous Materials Safety Administration. In 2013 and 2014, there were eight derailments, including Lynchburg's, collectively releasing more than 930,000 gallons of oil.
These records don't include derailments from Canada, and don't specify whether the oil was Bakken crude.
To date this year, four trains carrying Bakken crude have overturned and sparked fires in the U.S. and Canada. Federal regulators refer to these as "high-hazard flammable trains." Conservation groups, including the Sierra Club and Waterkeeper Alliance, call them "bomb trains."
Every week, CSX hauls four to six of these "unit trains" — a large train pulling a single type of cargo — from Chicago to Yorktown, where the oil is loaded onto barges and shipped out to refineries along the East Coast.
At 2 p.m., one year ago today, a 105-car unit train derailed in Lynchburg, igniting a fireball and spilling almost 30,000 gallons of Bakken oil into the James River.
The response was closely watched by communities up and down the crude-oil route.
"Everyone was sitting here going, 'what the hell is going on?'" said Thomas Shepperd, chairman of the York County Board of Supervisors in Virginia. "Because the Lynchburg accident was part of a series of accidents, it wasn't the only one. It if had been one accident, it would have been a fluke, but it was just a series of them.
"We started going, 'wow, look at this. Somebody better be paying attention.'"
Estep, chief of the Armstrong Creek Volunteer Fire Department, said he hopes elected representatives make the changes needed to keep communities safe.
"It could have been bad. It could have been really bad," Estep said. "We're very fortunate we didn't lose anybody, we didn't hurt anybody."
When talking about the Lynchburg and Mount Carbon incidents, people mention the small things that did or didn't happen, the inches and "ifs" that averted catastrophes.
These unit trains cut through the center of Montgomery and wind along the edge of downtown Lynchburg, passing by countless homes and businesses as they do in other communities across North America. They often run parallel to rivers, such as the James and Kanawha, threatening water supplies, wildlife and culture.
The answer to the "ifs" raised by this train traffic was provided more than a year earlier. In 2013, a 72-car train derailed in Lac-Megantic, Canada, causing an explosion and fire that killed 47 people and destroyed part of the 6,000-person town.
Estep, a hazardous materials specialist for chemical company DuPont, said local first responders started taking closer notice of the black tankers after Lac-Megantic. Lynchburg's derailment was another reminder of the danger passing by their backyards.
"When the Lynchburg incident happened, it got a little closer to home because it came through here," said Benny Filiaggi, deputy fire chief of the Montgomery Fire Department.
The nearly all-volunteer Montgomery Fire Department covers a string of small communities — Adena Village, Mount Carbon, Smithers, Boomer — that hug the banks of the Kanawha River.
Many homes are sandwiched between the river and the tracks. The CSX derailment incinerated one house on the outskirts of Adena Village, but no one was killed.
"A couple more hundred yards up the road, you'd have been in the residential section," Filiaggi said. "Somebody could have been asleep or taking a bath. It could have been a lot worse."
In Lynchburg, the word "lucky" is often used to describe the chain of events that confined the derailment and fire to the riverbank.
"If the cars had come the other way and come toward the Depot Grille, it would have been a different situation," said Jason Campbell, acting deputy chief of the Lynchburg Fire Department.
"Murphy was off that day," said Wade Collins of the Virginia Department of Emergency Management, referencing "Murphy's Law," the concept that everything that can go wrong will go wrong. "Things worked in our favor."
Questions of "what if" are being replaced by the worry of "what's next?" as residents and officials wonder where the next derailment will occur.
"Every time a train goes by, and it does every day on this track, I shiver," said Elizabeth Shepherd, 62, who lives just feet away from another set of train tracks across the river from Adena Village. "Because these trains could do the same thing as that train."
Hazardous materials traveling the nation's rails aren't limited to Bakken crude. CSX runs about 1,300 trains per day in 23 states and two Canadian provinces. Crude-by-rail accounts for less than 2 percent of that total traffic.
"Avoid tunnel vision," Collins, a hazardous materials supervisor, advised last month while speaking at a statewide conference of Virginia emergency managers. "… You're not on a crude oil route? We still have trains with ethanol, anhydrous ammonia, chlorine. There are a lot of hazards associated with the commodities shipped by rail."
Spills of other materials are down significantly, but many in Mount Carbon are more afraid of chemicals they know are moving through the valley, and what would happen if those tankers breached. Other trains carry chemicals that may not be as explosive or volatile as Bakken crude, but are just as dangerous.
On the day of the derailment, Shirley Rose, 76, was standing at the window of her home in Boomer Bottom showing her three grandkids the cracks in the ice on the river.
The heat from the first tanker explosion was so intense Rose thought the siding might melt off her house. But she didn't know what material caused the blast.
"This is chemical valley," she said, noting the many large plants around the region. "… It's just a lot of chemical stuff you have to worry about and then they ship it right by your door and it blows up in your face."
CSX spokeswoman Melanie Cost said safety is the company's top priority.
This year, CSX will spend about $2.5 billion on infrastructure, including track work, equipment and strategic projects. Last year, it spent $2.4 billion out of a total annual profit of $12.7 billion.
Cost declined to say how much each derailment costs the company. Collins said it's estimated the railroad spent more than $4 million responding to the Lynchburg derailment.
"There's a lot of work happening at a government level, at an industry level and at the individual company level, of course, to look at how to make the transportation of this important product and every product safer," Cost said.
Chris Sargent, a coal miner, was playing with his kids in the snow when he heard the train coming.
The derailment shook the ground and shot fast-moving flames toward a neighbor's home and into nearby Armstrong Creek.
Sargent, a volunteer fireman, shook away the shock, made sure his children were safe, and went toward his neighbor's house. It was destroyed. He would find out later the owner escaped.
Across the river at Boomer Bottom, people watched from open points on dead-end streets.
"They were still exploding, and fireballs were showing across the river and high up that mountain," Martha Angel said.
Emergency responders started evacuating the densely built neighborhoods on both sides of the river within 20 minutes.
As in the Lynchburg derailment, Mount Carbon-area first responders decided to let the fire burn itself out. Fighting it could have spread more oil into the river, they said, causing more environmental damage.
In Virginia, the derailment focused new attention on the need to arm first responders with equipment, training and information.
"I think the greatest things that we have gotten out of the incident, or as a result of the incident, not just for us, but statewide, were better communication from the railroad as far as product that is coming down the rail, how often it's coming," said Campbell, Lynchburg's deputy fire chief.
CSX said it offers many classes and training opportunities for emergency responders. Last year, it converted a hands-on program called the "Safety Train" to focus on energy products, training more than 2,000 first responders in 18 cities, including 240 in Richmond.
Public safety departments don't always know to ask for information and it isn't always proactively offered, Campbell said. The state, in partnership with the rail companies, is working to increase training and find new grant opportunities.
"We were able to find additional training opportunities, now. I think they're becoming much more publicized because of all the events that have occurred," Campbell said.
Cost said talks are ongoing and the company is engaged at all levels to "understand lessons learned" from each incident and improve response.
"As it becomes clear that this is going to continue in terms of trying to support energy independence, it comes with a lot of responsibly to make sure we're protecting the communities," she said.
Shortly after the Mount Carbon derailment, CSX reimbursed Tom Lilly for work he had to miss. His wife, Linda Lilly, a hairdresser, didn't seek reimbursement because she didn't think her customers would have come because of the snow. They stayed one night in a hotel on CSX's dime, then returned home.
CSX put many people up in hotels for a night or more, while the fires finished burning and before power and water was restored to all areas. Many people left their homes without anything, including a change of clothes. CSX representatives handed out prepaid debit cards.
"I don't want anything out of it. I think we were compensated for our inconvenience," Linda Lilly said. They and neighbors, though, are concerned about damage to their foundations from the explosion and cleanup. "I just want to make sure my house is secure."
Cost said CSX works with people on an individual basis after derailments, and anyone with concerns should contact the company.
About a week after the Mount Carbon derailment, ice in Armstrong Creek started to break up and responders could see a yellow sheen moving into the water. Ice had been holding the crude, but containment mechanisms were already in place by then.
The environmental damage is not yet determined, but tests by the West Virginia Department of Environmental Protection, CSX and others have detected no contaminants, similar to the results after the Lynchburg derailment. Cleanup and testing continues.
By early April, CSX had recovered 236,000 gallons of oil-water mix and more than 9,000 tons of soil. There is no firm timeline for completing work. The Environmental Protection Agency is heading the remediation agreement, compared to the Lynchburg derailment, in which the state Department of Environmental Quality took the lead, eventually fining the rail company $361,000 plus expenses.
While work continues to restore the Mount Carbon crash site, the damage to the community is still being discovered.
Some who've lived near the tracks their whole lives accept the risk, saying it's unlikely to happen again.
"To be honest, I never paid attention to trains and never thought about a train wreck at all," said Tom Lilly, whose backyard fence borders the tracks. "I still lay down and go to sleep at night."
Sargent, the volunteer firefighter, said weeks after the train derailment his 7-year-old daughter heard a train horn at school and ran to her teacher, thinking they needed to evacuate. When the family was in Montgomery, recently, she heard the noise of a train releasing its brakes. She was scared it would blow up. Sargent said she will likely need therapy.
Cost said CSX's desire to make people "whole" extends to helping heal emotional scars.
"We completely understand that following incidents like this there can be some lasting repercussions," she said.
Estep, the Armstrong Creek fire chief, has lived all his life in the "hollow," a community cut in the mountainside.
Trains helped build the community, he said, but more action should be taken to minimize hazards and strengthen the tank cars running this volatile oil so close to homes and rivers.
He thinks back to that train engineer urgently blowing his horn.
"Every time I hear a train whistle," he said, "I still get a bad feeling." 
Do you like this post?