Glens Falls Post-Star | May 30, 2015 | Column by Christina Scanlon
Post cards directed to Department of Environmental Conservation Commissioner Joseph Martens ask him to "Ban the bomb trains."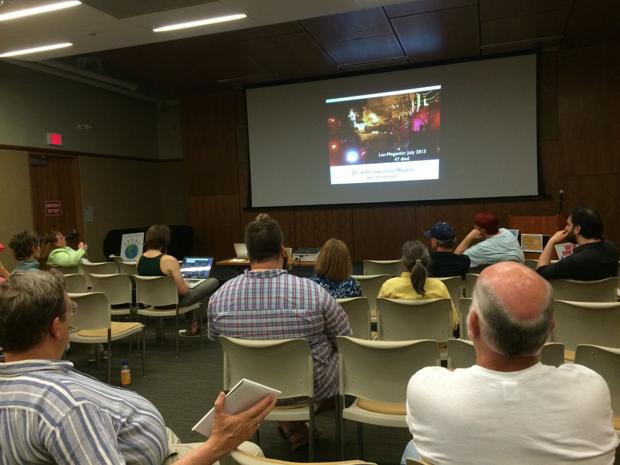 While the message sounds alarming, an informational session Saturday detailed a number of accidents, poor railway infrastructure and unsafe rail cars that, according to some, turn crude oil transport into an accident waiting to happen.
Sandy Steubing, of People of Albany United for Safe Energy, delivered her presentation to about 20 people at the event, hosted by Warren County Green Party.
The numerous train derailments, some environmentally devastating and deadly, are not so far-fetched in Warren and Washington counties, according to Steubing.
She explained the oil contained in the cars is more volatile than traditional crude oil, as it was collected by fracking.
Each tanker car of oil, which passes along Lake Champlain, the Hudson River, through Fort Edward, Hudson Falls, Whitehall, Dresden and Putnam, among other areas, is equal in explosive characteristics to two million sticks of dynamite.
The dangers of transport are multiplied as the cars, known as U.S. DOT-111 tanker cars, were not intended for such use. Instead, they were meant to carry agricultural materials.
A number of accidents where explosions took place involved the cars. One such accident killed 47 people in Lac-Mégantic, Quebec, in July 2013.
Canada is phasing out their use.
The CPC-1232 is the tanker car that is said to replace the former, however, according to Steubing, the cars have also exploded during numerous derailments.
Derailments happen, on average, 3.5 times per day across the country, she said.
While not rare, they do not always lead to dangerous explosions.
Oil spills do, however, often require evacuations of surrounding areas.
"Do you know how long it would take to evacuate Glens Falls," she asked.
Further complicating the matter is old rails and unsafe rail beds.
Guests of the presentation asked what benefits local municipalities obtain by having the trains travel through their territory.
No one had an answer.
Green Party members plan to ask that and other questions as the present Steubing's information to local government leaders in the near future.
They are encouraging the public to ask the same questions and get involved by asking the DEC commissioner to stop the transport of the oil through the area.
http://poststar.com/news/local/public-seeks-to-ban-the-bomb-trains/article_f968aadb-d7a0-520a-ba62-3f9cc609b7f1.html
Do you like this post?
---
PAUSE, People of Albany United for Safe Energy posted about
Public seeks to 'Ban the bomb trains'
on
PAUSE, People of Albany United for Safe Energy's
Facebook page
2015-06-01 22:42:22 -0400
Public seeks to 'Ban the bomb trains'
@PAUSEnergy
tweeted this page.
2015-06-01 22:42:15 -0400