Auburn Citizen | February 20, 2015 | Post by Robert Harding
U.S. Sen. Chuck Schumer is calling on two federal agencies to finalize rail car safety stands in the aftermath of an oil train that derailed and exploded in West Virginia.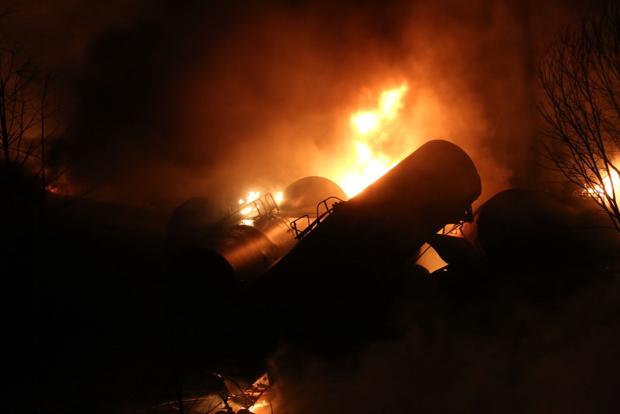 Schumer, D-N.Y., is pushing the U.S. Department of Transportation and Office of Management and Budget expedite the regulations for oil-carrying trains. He said the rail cars involved in the accident, CPC-1232s, would likely not meet the proposed federal standards for cars carrying crude oil. 
"Yet again, we have seen a rupture-prone rail car carrying volatile crude oil wreak havoc on a community, and it further demonstrates that the federal Department of Transportation and Office of Management and Budget must release tough, comprehensive rail car standards to help avoid a future tragedy," Schumer said. 
While the CPC-1232 cars are a newer model, Schumer said they are "barely stronger" than DOT-111 cars, which have involved in previous crude oil train explosions. 
The proposed federal regulations, Schumer said, would require cars that can withstand a fire longer and travel at high speeds. The CPC-1232 model would likely not meet any of the three proposed standards put forth by the federal DOT. 
"I am confident that DOT will be implementing much stronger requirements for the strength and structure of rail cars carrying crude oil in their soon-to-be released rule, and I am urging them to work with OMB to get those rules out the door — now," Schumer said. 
No one was seriously injured in the West Virginia derailment. The tanker explosion set fire to one house and there was concern because of the proximity of the train to a nearby creek. 
However, officials said the trains didn't enter the creek. Tests have been conducted to determine whether any oil leaked into the water. 
http://auburnpub.com/blogs/eye_on_ny/schumer-after-west-virginia-oil-train-derailment-federal-rail-car/article_253a9036-b84a-11e4-9394-cbf6f3273817.html
Do you like this post?