Post Star | April 7, 2014 | Column by Michael Goot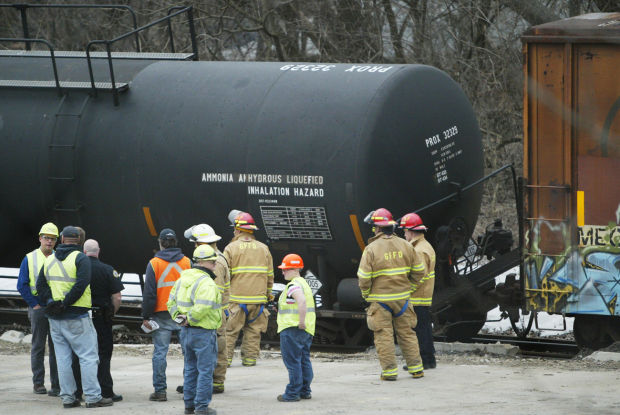 GLENS FALLS -- No one was injured Monday when two tanker cars carrying anhydrous
ammonia derailed on the property of Lehigh Northeast Cement Co. plant on Warren Street.
The incident happened at 1:48 p.m. Two cars of the two-engine Canadian Pacific train, which appeared to be pushing at least five cars, got slightly off the rail spur that runs between Hudson Falls and Glens Falls.
"They were on an industrial track and being moved around when the two cars came slightly off the track. They were upright. There were no leaks," said CP spokesman Ed Greenberg.
Rail officials alerted first responders and implemented emergency procedures, according to Greenberg. Canadian Pacific had its own teams go to the site to assess the situation.
Greenberg said special lifting equipment was sent to the scene in order to lift the cars, so tracks underneath could be repaired to allow the train to continue its travels. That process was expected to take several hours Monday.
Glens Falls Assistant Fire Chief John Ellingsworth said he believes the train was bound for Finch Paper, as it was carrying anhydrous ammonia, which is used to soften wood for the papermaking process. The chemical can be deadly when inhaled in heavy quantities.
Access to the property was restricted during the cleanup as a precautionary measure, and the Feeder Canal Trail in the area was closed for a time.
Ellingsworth said he could not recall a similar derailment on this spur.
Glens Falls firefighters and emergency services officials in Warren and Washington counties were meeting later Monday afternoon to put together a plan for possible evacuations in the event one of the tankers is compromised during the repair process.
In 2000, nearly 800 people had to be evacuated from their Fort Edward homes when a parked 30,000-gallon railroad tanker in a freight yard off Factory Street began leaking anhydrous ammonia gas from a release valve. Emergency officials set up an overnight shelter at Hudson Falls High School for residents who weren't able to spend the evening with friends or relatives.
Derek Pruitt
Emergency responders survey a two-car train derailment in the yard of the Lehigh Northeast Cement plant in Glens Falls on Monday, Aprill, 7, 2014. At least one of the tanker cars listed contents of liquified ammonia, but no leaks were reported as plans were made to set the cars back on track. (Derek Pruitt - [email protected])
Do you like this post?