Minneapolis/St. Paul Business Journal | March 18, 2015 | Column by Nick Halter
Crews this spring will begin installing solar arrays on the rooftops of 180 Target stores nationwide.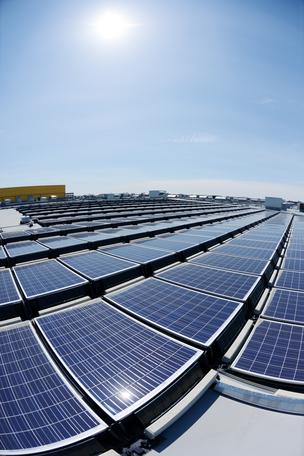 Target Corp. hired Greenskies Renewable Energy of Middletown, Conn., to install and operate the systems, which are expected to produce a total of 100 megawatts of electricity.
Greenskies says the arrays will produce 20 to 30 percent of the energy needed to power a typical Target store. Two arrays will be installed on New York distribution centers.
Target already has solar arrays on 108 stores and wants to reach 500 by 2020, according to an earlier news release. The Minneapolis-based retailer has 1,800 stores in the U.S.
Nick Halter covers retail and sports business.
http://www.bizjournals.com/twincities/news/2015/03/18/target-to-add-solar-arrays-to-180-store-rooftops.html
Do you like this post?
---
@PAUSEnergy
tweeted this page.
2015-03-25 23:38:47 -0400
PAUSE, People of Albany United for Safe Energy posted about
Target to add solar arrays to 180 store rooftops
on
PAUSE, People of Albany United for Safe Energy's
Facebook page
2015-03-25 23:38:47 -0400
Target to add solar arrays to 180 store rooftops