Rochester City Newspaper | July 15, 2015 | Column by Jeremy Moule
A fiery derailment of a CSX oil train in Mount Carbon, West Virginia, in February showed the destructive potential of these trains. Twenty-seven of the train's 109 oil cars went off the tracks — some catching fire or exploding. A nearby home was destroyed in the fire, which continued to burn for five days.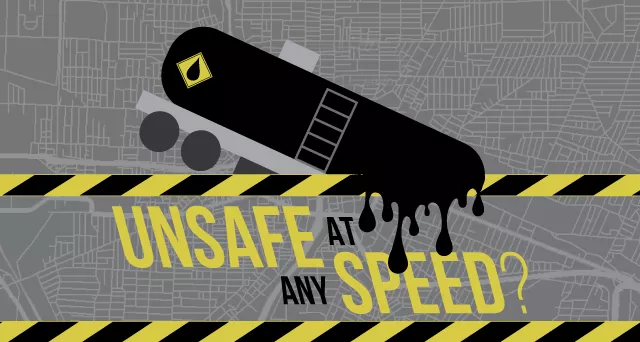 The cause of the accident is still under investigation.
The derailment occurred right next to the Kanawha River, and environmental crews had to work quickly to keep hundreds of thousands of gallons of crude from seeping into the water. A downstream drinking-water treatment plant was also shut down as a precaution.
"This accident is another reminder of the need to improve the safety of transporting hazardous materials by rail," said Christopher Hart, acting chair of the National Transportation Safety Board, in a news release.
Mount Carbon was one of five fiery oil train derailments in the US and Canada between January and May. Though the high-profile accidents have not claimed any lives, they do have a lot of people — from environmental and community activists to emergency responders —concerned about what might happen if an oil train derails in their communities.
"These are the kinds of things that keep us awake in the Fire Bureau," says Sam DeRosa, Monroe County fire coordinator. "Seriously, they do. This is serious stuff and they don't have a real good track record or history in the country."
On any given day, up to two or three "unit trains" come through Monroe County, based on data provided to the Monroe County Fire Bureau by CSX, which owns the main rail line through the area. That can mean up to 300 black tanker cars, each carrying 30,000 gallons of volatile crude passing from one side of the county to the other.
If even one of those cars tips over and catches fire, the result would be an all-hands-on-deck scenario for local fire, police, and ambulance agencies, as well as other local, county, and state departments and agencies, DeRosa says.
Most oil trains make their trips without incident; derailments and large spills have occurred in only a fraction of the shipments. But the cars that carry the oil are known to puncture or rupture easily, and a single derailment can be very destructive. That's why environmental groups are campaigning against the trains, and why some of the people who live near railroad tracks are terrified of them.
Environmentalists also have broader objections to hauling oil by rail, mostly having to do with climate change. Oil trains enable and encourage continued extraction and use of fossil fuels, says Sue Hughes-Smith, a member of the climate action group Mothers Out Front and coordinator of its fledgling oil trains team. And further buildout of fossil fuel infrastructure obstructs and detracts from development of climate-friendly clean energy, she says.
"Why are we continuing to go down a road that leads us to the opposite of where we need to be?" she says.
Until July 5, 2013, oil trains weren't even a blip on the public's radar. But that day, a train loaded with crude oil derailed and exploded in Lac-Mégantic, Quebec, killing 47 people and destroying much of the community's downtown.
Not long after, activists, concerned citizens, journalists, and politicians started asking whether trains haul crude through their communities, too. And in Upstate New York's largest metros, the answer is yes.
In early 2014, a Rochester Fire Department spokesperson said that, in terms of hazardous substances, crude oil has become second only to ethanol in the quantity coming through Rochester by rail. A few years earlier, it wasn't even on the list.
Nationwide, a few million barrels of oil were shipped by rail annually prior to 2010, when the number jumped to 20 million barrels. The numbers have skyrocketed since. Last year, trains hauled 371.2 million barrels of oil across the country, according to the US Energy Information Administration.
Much of the growth has to do with fracking in the Bakken Shale in North Dakota and Montana. Previously untapped by energy companies, the shale lacks the pipelines and refineries that some of the more established oil- and gas-producing regions of the country possess. And so trains emerged as a simple, efficient, and cost-effective way to move the products to coastal refineries.
Monroe County is on a major CSX rail route for oil trains heading to the Port of Albany, where the crude is offloaded onto Hudson River barges bound for East Coast refineries. (The City of Albany and County of Albany have little control over rail traffic, which is governed under federal and state law. The port is run by a state-created authority.)
The Albany-bound train traffic passes through local neighborhoods, near schools, and through heavily populated areas in Gates, the City of Rochester, and East Rochester. The trains also run right through downtown Fairport.
The processions of tanker cars grabbed the attention of citizens and politicians, but awareness really took off when the volatility of the Bakken crude came to light. It has higher gas content than other crudes, which is why the cars carrying it ignite so easily if they overturn or are damaged.
Members of Mothers Out Front marched in Fairport's Independence Day parade, some carrying signs celebrating wind and solar power, and others carrying signs condemning what opponents have started calling "bomb trains."
The group began to coalesce last year when a group of local mothers, including Hughes-Smith, organized oil-train protests in downtown Fairport. Over the past year, public awareness of oil trains has grown, and opponents have become more visible and vocal. Mothers Out Front has made oil trains one of its priority issues.
The growth of the anti-oil train movement mirrors the growth of the influential anti-fracking movement. People are discussing the issue with friends, neighbors, and acquaintances, and as more people take an interest, they're able to form grassroots networks that can pressure lawmakers, says Nedra Harvey, co-founder of the local anti-fracking group R-CAUSE.
"If we have politicians who aren't doing their duty and we don't speak to them about it, then we really are partially at fault," Harvey says.
In Albany, activists pressed government officials into delaying a project that could bring tar sands oil to the Port of Albany via rail. Global Partners wants to build a boiler facility that would heat up the sludgy tar sands crude, making it easier to transfer onto barges. The DEC initially said that it wouldn't require an in-depth environmental review of the project, but reversed its decision in May.
People of Albany United for Safe Energy spoke out against the project, which members say would bring additional oil-train traffic to the port. The group opposes oil trains because of their safety risks and their contribution to climate change.
But the group also pushed back on the port proposal on environmental justice grounds. The trains that queue up outside of the port park next to a low-income housing complex, and the idling cars emit irritants and carcinogens known as volatile organic compounds.
"There was no public input on these trains, and I think that's criminal," says Sandra Steubing, one of the group's founders.
State and federal officials appear to have heard some of the public's concern about oil trains, and have advanced dozens of policies and recommendations aimed at making the transportation of crude by rail safer.
At the state level, Governor Andrew Cuomo ordered periodic inspections of railways and oil trains, which have caught damaged tracks and malfunctioning rail car brakes. This spring, lawmakers increased the cap on New York's oil spill cleanup fund to $40 million, though environmental groups say the amount should be much higher. And the state is investing in additional firefighting equipment and foam to deploy in the event of a train derailment or fire.
The US Department of Transportation has proposed new design standards for oil and ethanol tanker cars. The DOT-111 design currently used is decades old, and the National Transportation Safety Board first recommended replacing it in 1991.
Under the proposal, rail cars would have to meet the new design standards by later this year, but existing cars would be able to stay on the rails through 2023 as long as they're retrofitted.
The USDOT has also proposed a 40 mph speed limit for some urban areas — Rochester, Syracuse, and Albany are not included — and new requirements for braking systems.
US Senator Chuck Schumer, who has repeatedly called for stronger oil-train regulations, immediately said that the standards are inadequate. He's introduced legislation that includes provisions to phase out DOT-111 cars within two years and extends the lower speed limit to more areas.
Schumer's legislation directs the USDOT to set a federal standard on volatility, which means that energy companies would have to remove some of the gas content before loading the oil onto trains.
Still, many opponents say that the regulations aren't enough and that crude can't be transported by rail safely. The rail system needs significant investment, they say, and the trains are travelling over deteriorating bridges. And neither the state nor federal governments can devote adequate staff to inspecting the trains and railways, they say.
Besides, government officials and energy companies should be looking beyond fossil fuels to renewable energy, oil-train opponents say.
"The stuff doesn't actually have to come out of the ground, and it doesn't have to move through our communities in containers that are designed for high-fructose corn syrup," says Hughes-Smith of Mothers Out Front.
Emergency responders don't have a say in what rides the rails, but must prepare to handle any disaster that comes along.
County, local, and state emergency agencies worked together to develop plans for all kinds of incidents, from bomb threats to Ebola. They've also laid out how they'd respond to incidents involving large amounts of toxic or highly flammable materials, such as the chlorine and ethanol that routinely pass through Monroe County.
As oil trains have emerged as a new hazard, county, local, and state emergency officials developed plans for responding to spills, fires, and derailments. They're continuing those planning efforts and will have training exercises later this year, says county fire coordinator DeRosa. CSX is working hand in hand with officials, he says.
"We do this routinely," DeRosa says. "This is just a brand-new topic."
If a Monroe County community ever does experience an oil-train fire, the response will be massive and involve fire departments, emergency medical services, law enforcement, and local highway department workers.
The response would require lots of resources and equipment. Experts say that putting out a fire involving one tanker car full of oil would take 600 gallons of fire-suppression foam and 40,000 gallons of water to mix it with, DeRosa says. For perspective, a fire hydrant flows at 500 gallons per minute, he says, and 600 gallons of foam would probably include the inventory of every fire department in the county.
"There's no fire department in the county that's going to be able to handle this alone," DeRosa says.
Fire officials have been told that if more than three cars are involved, crews should let the blaze burn out, he says. Such an incident would likely involve an evacuation, he says, and would take a while: when an oil train derailed and caught fire in Galena, Illinois, the blaze took three days to extinguish.
http://www.rochestercitynewspaper.com/rochester/unsafe-at-any-speed/Content?oid=2584861
Do you like this post?
---
PAUSE, People of Albany United for Safe Energy posted about
Unsafe at any speed?
on
PAUSE, People of Albany United for Safe Energy's
Facebook page
2015-07-21 10:02:25 -0400
Unsafe at any speed?
@PAUSEnergy
tweeted this page.
2015-07-21 10:02:21 -0400