Eagle-Tribune | March 17, 2015 | Column by John Sakata
Windham uses 100 percent renewable energy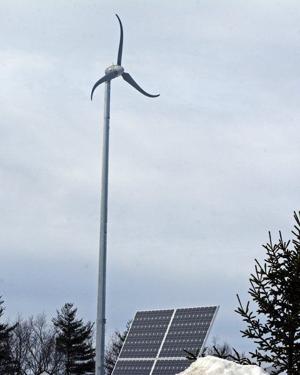 WINDHAM — All town office buildings are powered with renewable energy, thanks to the town's latest energy contract. 
For the next eight months, the town will be powered with renewable energy sources, like wind and solar. 
It's not just for environmental reasons — the town will be saving money.
At a time when energy rates are soaring, Local Energy Committee member Neelima Gogumalla said the contract is about $20,000 less than what it could be. 
"I would think if it works for us, it would work for our neighboring communities," Gogumalla said. 
The town has an eight-month contract with New York-based ConEd Solutions at a cost of $63,698, according to Gogumalla. For the three months before that, the town received its energy from Eversource. 
It's not as though Windham is dotted with solar farms or wind turbines, but town's payments are credited to a renewable energy company.
The new contract costs slightly more than 7 cents per kilowatt-hour, she said, compared to the 9 cents it would have paid Eversource, Gogumalla said. 
Town Administrator David Sullivan said the town has received 60 percent of its energy from renewable resources for the last two years. The town could be 100 percent dependent on renewable energy going forward, he said.
"We're not only doing right by the environment, but also saving money because it's cost effective for the community," Sullivan said.
The town submitted a request for proposal requiring 100 percent renewable energy and officials were pleased with the bids.
"I was always under the impression it would be a very costly differential between green energy and traditional sorts of plans," Selectman Roger Hohenberger said.
The Local Energy Committee has been making a lot of headway on increasing energy efficiency, Gogumalla said.
The committee previously applied for and received American Recovery and Reinvestment Act funding to change light fixtures. The committee also weatherized town buildings and conducted energy audits. 
The committee and school officials will meet later this month to discuss ways the committee can help reduce the school district's bill.
Windham High School has a large wind turbine in its parking lot. Bethany Bernasconi, director of science, said the wind turbine does work and puts power back onto the grid. 
Gogumalla said the energy committee is looking for ways individual homeowners can switch to renewable energy. The committee is working with the Southern New Hampshire Planning Commission on a pilot solar program. 
"We've been very active right now," she said. 
http://www.eagletribune.com/news/new_hampshire/windham-running-on-renewable-energy/article_4e49d89f-0a50-5cb8-b56a-ac1a05b5c8cb.html
Do you like this post?
---
@PAUSEnergy
tweeted this page.
2015-03-25 23:15:35 -0400
PAUSE, People of Albany United for Safe Energy posted about
Windham running on renewable energy
on
PAUSE, People of Albany United for Safe Energy's
Facebook page
2015-03-25 23:15:35 -0400
Windham running on renewable energy